Kubernetes concepts
Introduction
Kubernetes is a container management system

It runs and manages containerized applications on a cluster

What does that really mean?
Basic things we can ask Kubernetes to do
Start 5 containers using image atseashop/api:v1.3

Place an internal load balancer in front of these containers

Start 10 containers using image atseashop/webfront:v1.3

Place a public load balancer in front of these containers

It's Black Friday (or Christmas), traffic spikes, grow our cluster and add containers

New release! Replace my containers with the new image atseashop/webfront:v1.4

Keep processing requests during the upgrade; update my containers one at a time
Other things that Kubernetes can do for us
Basic autoscaling

Blue/green deployment, canary deployment

Long running services, but also batch (one-off) jobs

Overcommit our cluster and evict low-priority jobs

Run services with stateful data (databases etc.)

Fine-grained access control defining what can be done by whom on which resources

Integrating third party services (service catalog)

Automating complex tasks (operators)
Kubernetes architecture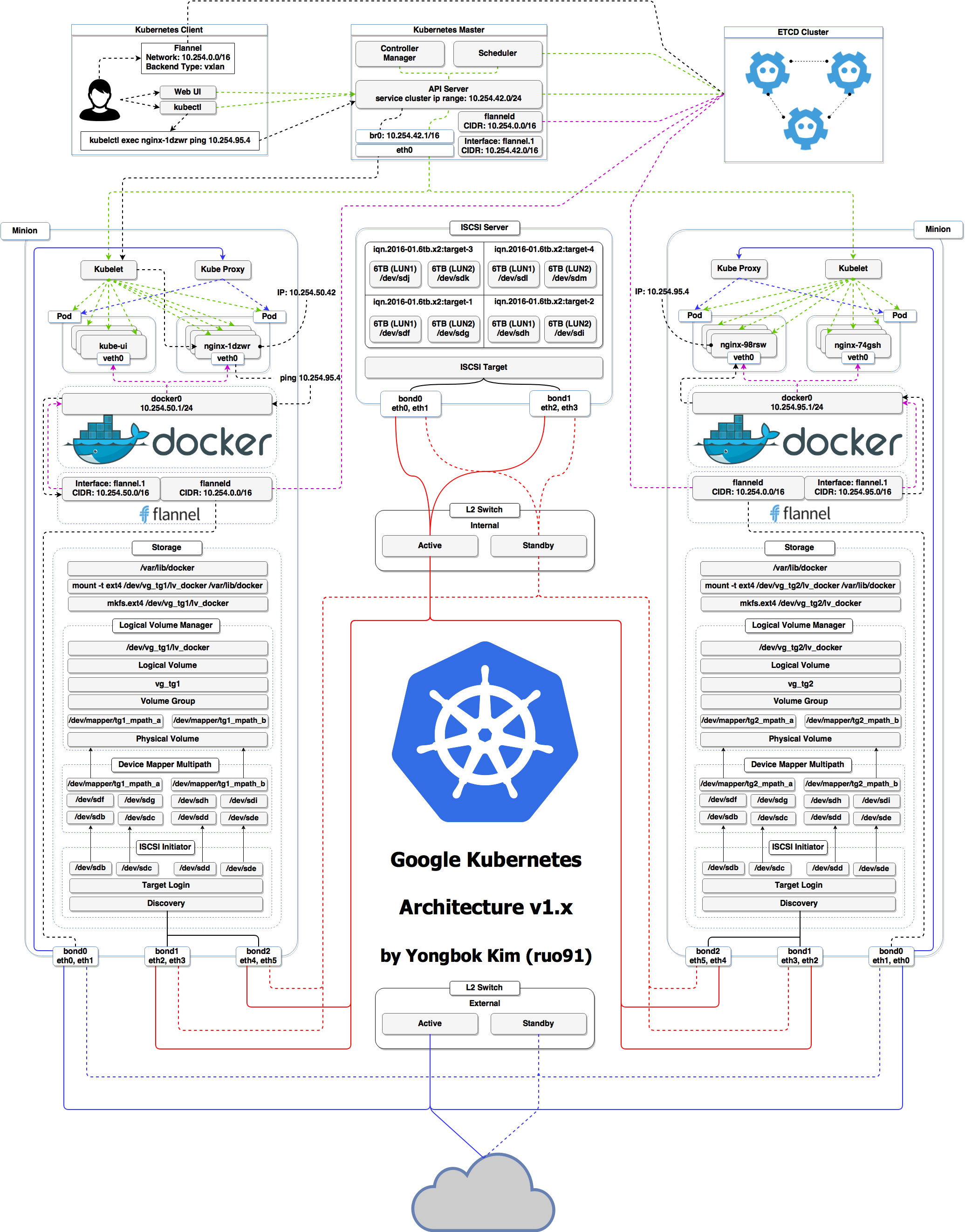 Kubernetes architecture
Ha ha ha ha

OK, I was trying to scare you, it's much simpler than that ❤️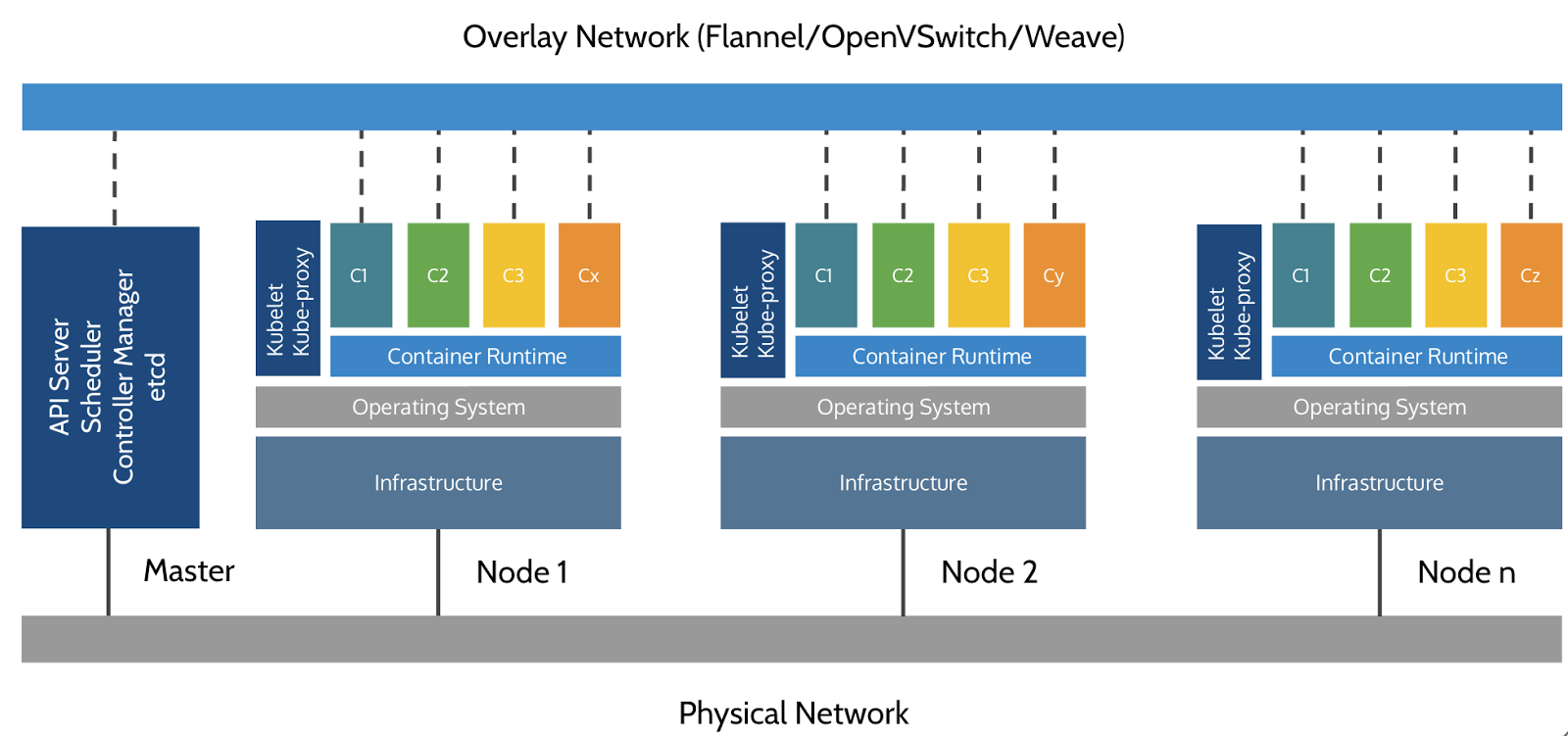 Credits
The first schema is a Kubernetes cluster with storage backed by multi-path iSCSI

(Courtesy of Yongbok Kim)

The second one is a simplified representation of a Kubernetes cluster

(Courtesy of Imesh Gunaratne)
Kubernetes architecture: the nodes
The nodes executing our containers run a collection of services:

a container Engine (typically Docker)

kubelet (the "node agent")

kube-proxy (a necessary but not sufficient network component)

Nodes were formerly called "minions"

(You might see that word in older articles or documentation)
Kubernetes architecture: the control plane
The Kubernetes logic (its "brains") is a collection of services:

the API server (our point of entry to everything!)

core services like the scheduler and controller manager

etcd (a highly available key/value store; the "database" of Kubernetes)

Together, these services form the control plane of our cluster

The control plane is also called the "master"
Running the control plane on special nodes
It is common to reserve a dedicated node for the control plane

(Except for single-node development clusters, like when using minikube)

This node is then called a "master"

(Yes, this is ambiguous: is the "master" a node, or the whole control plane?)

Normal applications are restricted from running on this node

(By using a mechanism called "taints")

When high availability is required, each service of the control plane must be resilient

The control plane is then replicated on multiple nodes

(This is sometimes called a "multi-master" setup)
Running the control plane outside containers
The services of the control plane can run in or out of containers

For instance: since etcd is a critical service, some people deploy it directly on a dedicated cluster (without containers)

(This is illustrated on the first "super complicated" schema)

In some hosted Kubernetes offerings (e.g. AKS, GKE, EKS), the control plane is invisible

(We only "see" a Kubernetes API endpoint)

In that case, there is no "master node"
For this reason, it is more accurate to say "control plane" rather than "master".
Do we need to run Docker at all?
No!
By default, Kubernetes uses the Docker Engine to run containers

We could also use rkt ("Rocket") from CoreOS

Or leverage other pluggable runtimes through the Container Runtime Interface

(like CRI-O, or containerd)
Do we need to run Docker at all?
Yes!
In this workshop, we run our app on a single node first

We will need to build images and ship them around

We can do these things without Docker
(and get diagnosed with NIH¹ syndrome)

Docker is still the most stable container engine today
(but other options are maturing very quickly)
Do we need to run Docker at all?
On our development environments, CI pipelines ... :

Yes, almost certainly

On our production servers:

Yes (today)

Probably not (in the future)
[More information about CRI on the Kubernetes blog]
Kubernetes resources
The Kubernetes API defines a lot of objects called resources

These resources are organized by type, or Kind (in the API)

A few common resource types are:

node (a machine — physical or virtual — in our cluster)
pod (group of containers running together on a node)
service (stable network endpoint to connect to one or multiple containers)
namespace (more-or-less isolated group of things)
secret (bundle of sensitive data to be passed to a container)

And much more!

We can see the full list by running kubectl api-resources

(In Kubernetes 1.10 and prior, the command to list API resources was kubectl get)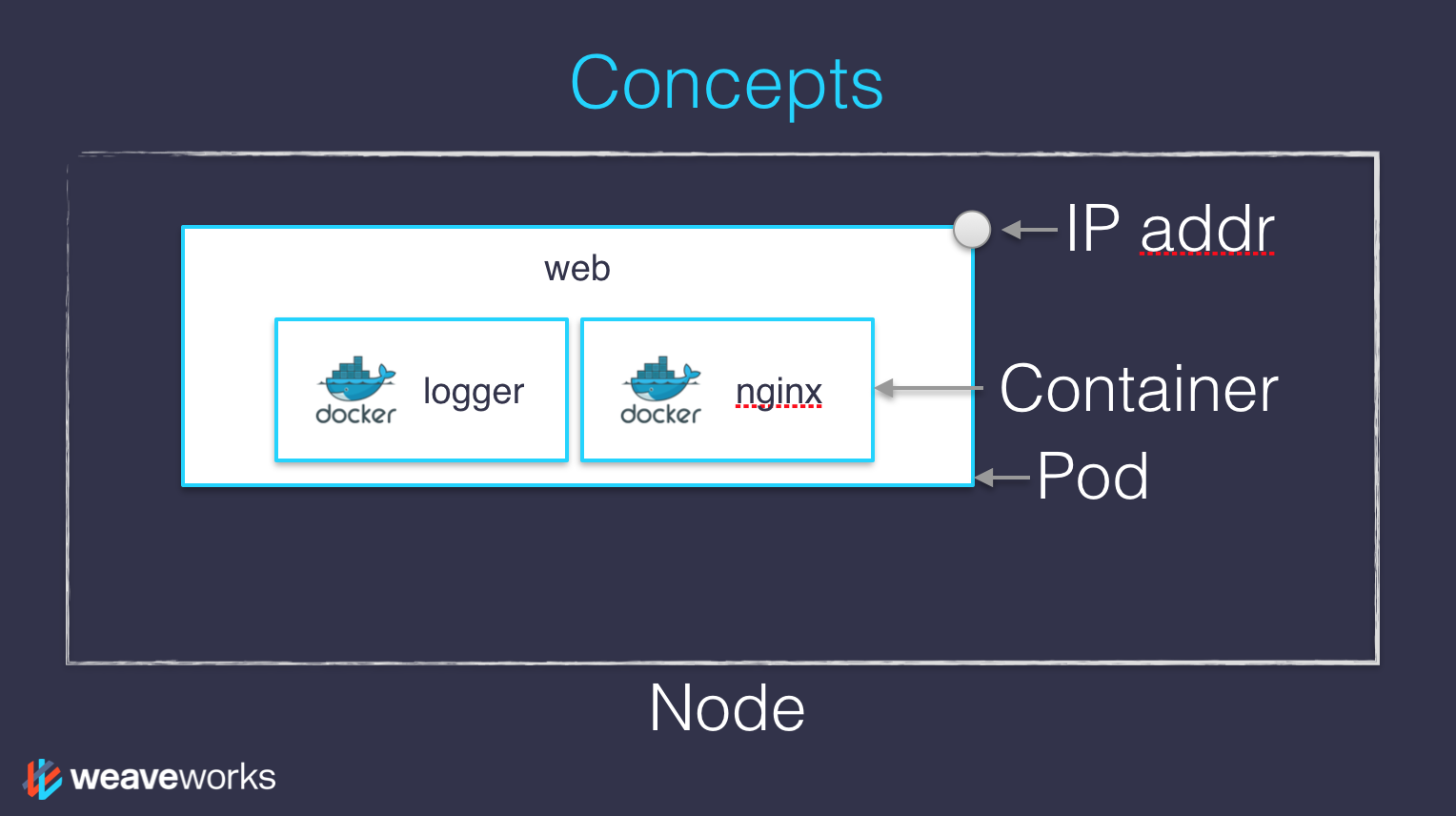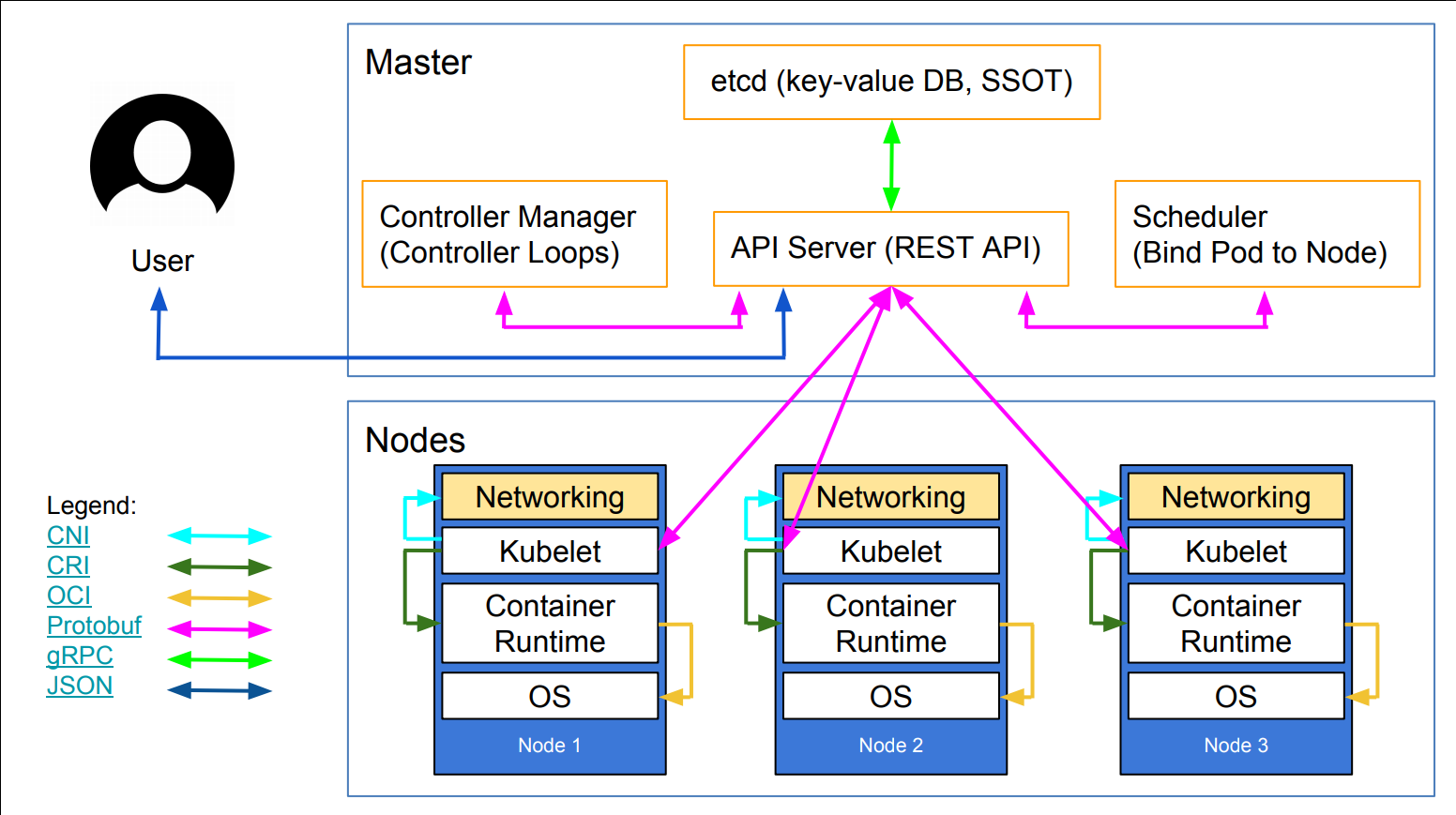 Credits
The first diagram is courtesy of Weave Works

a pod can have multiple containers working together

IP addresses are associated with pods, not with individual containers

The second diagram is courtesy of Lucas Käldström, in this presentation

it's one of the best Kubernetes architecture diagrams available!
Both diagrams used with permission.